How YOUR music will benefit from a mixing engineer
So you've just Googled 'online mixing and mastering' or 'mixing engineer' and have opened multiple tabs of different mix engineer's sites hoping to find the perfect mixer for your budget and music. It's a bit overwhelming, to say the least – I've been there. Luckily, we've found each other, and can get started making your music sound like a platinum album!
If there was an easy and affordable way to make your music sound as good as your favorite artists, would you do it?
MY STORY: I remember when I first began playing and recording music, I had no idea mixing and mastering engineer's even existed! I was using a crappy Radio Shack microphone plugged in directly to the computer, recording to a free daw, and at the time was absolutely amazed that I could record and layer tracks just like the bands on the radio. Only…it didn't sound great. Not even close. But I didn't care, I loved the fact that I was playing the instruments, that I was recording the music, and that I had complete control over every aspect of the music. Only later, when comparing the music to commercial tracks did I realize how horrible sounding the album was and I felt ashamed to release something like this. Musical control is a hard thing to let go of, but I assure you that a professional mixer is just what is needed to bring your music to the next level without taking control from you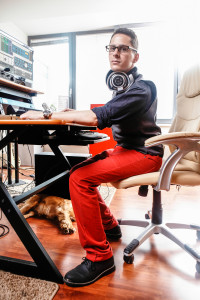 So if you're anything like me, you recognize that your mix isn't sounding quite like your favorite album. You've bought a nice interface and DAW, have a decent collection of plug-ins, and have read some articles and mix tips. You're spending all your time frustrated with the sound of your mix rather than where your passion lies: creating music. You don't have time or desire to research and purchase thousands and thousands of dollars worth of gear and plug-ins, invest in a musical and audio education, and most importantly, you can't devote years to the art of mix engineering to gain the experience and knowledge necessary to create a world class mix.
I'm here to be YOUR experience, your tool, and your partner in releasing music the way you've dreamt it should sound.
What artists have to say about using my music mixing service
Ava
Not only did Scott's work on my music completely convince me that I cannot release anything without his 'magic touches' but his excellent communication, fast response, and sensitivity to my budget constraints has made me a loyal client of his. I can't wait to hear what he does with my next two tracks, I KNOW I will have goosebumps. Creative, precise and of the utmost quality, Scott's mixes and the mastering that he performs are just plain wonderful. Can't recommend anyone more highly.
Jason
Scott at Virtual Mix Engineer is by far the easiest and most professional person I've dealt with in the music industry in any capacity in the 15 years I've been doing music. He is insanely prompt in returning messages not to mention his turn around time on mixes and masters is very prompt as well (without sacrificing quality). He is always willing to make adjustments (if needed) to make sure that I am happy. Scott is, and will continue to be my 'go to guy' for anything I need help with for sound.
Terence
WOW. I've worked with quite a few industry 'professionals' with regards to mixing and mastering and most of them have been overcharging me and not timely — in effect, non-professional. I'd almost given up hope until I began working with Scott. I no longer worry about my mixes because I know they are in great hands. He instinctively knows where I'm going with my music. He's always responsive, offers great feedback and has made recording my album a more peaceful and fun experience. I highly recommend Scott to anyone out there looking to take their music or projects to the next level.
I understand you when you say your budget is tight for the album. Music might not be your full time gig yet and you're recording late at night and all weekend. Spending money on studio time, art work, promotion, and mixing and mastering are all essential tasks that will only make your release better. Just as you would pay a good plumber, mechanic, dentist etc… – if you want your music to have the professional touch, you NEED to work with an audio professional with excellent taste and skill to make your tracks shine. Just think of all the possibilities that open up when your music sounds like a record: radio and media take you seriously, fans constantly listen and recommend your music to their friends, live gig opportunities present themselves, and your music could be perfect for licensing for film and TV. With a mediocre home-made mix however, many of these opportunities cease to exist and go to other artists who invested in their sound. I want you to succeed! Yes – it is an investment. Just as you've invested so much time and energy into the songwriting and recording, let's finish the music off with polish and sheen it deserves and let your fans adore the best sounding music you create.
My mixing and mastering service can bring that polish and sheen to your music just as it has for hundreds of other artists. Just listen to these BEFORE and AFTER samples to hear the amazing and dramatic difference between the client's raw mix and the finished master.This is custom heading element
How good do you want to sound?
I invite you to take that positive step forward for your music and release it into my able hands and golden ears. Get in touch, tell me all about your music and goals, and order a mix so we can get started showcasing your talents with the best sounding mix.
Online Mixing Mastering Client Music Videos